Limestone Fill, Gonzales, LA
B & K Equipment Services, Inc. is deeply familiar in residential site preparation work, having completed numerous single home and neighborhood projects in places like Gonzales, Baton Rouge, Iberville, New Orleans, and Livingston. Being part of the success of your new home or residential construction development project is truly your investment. We will prepare the land and pavement for your residential site quickly, efficiently, and at an honest, clearly stated rate.
Comprehensive Construction Site Prep Services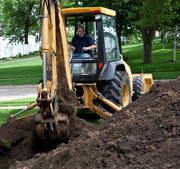 For single family home sites or residential developments
Excavating and grading
Drainage systems installation
Sidewalk, driveway, and street paving
Patio design and installation
Concrete forms and foundations
Retention pond design and installation
House pads
Shop pads
Culvert work/driveways and front ditches
We provide all types of fill materials:

Topsoil
Clay
Limestone
Crushed Concrete
Gravel
Sand
Batchard Dirt

We also offer spreading of Fill Materials
For the sake of keeping your construction project running smoothly, B & K Equipment Services offers complete residential site preparation, which streamlines development phases and quickly creates a site ready for building construction.
Contact the preferred excavating and grading contractor of the Gonzales area:
Call 225-445-4625, or contact B & K Equipment Services, Inc. online.
Located in Gonzales. Serving Ascension Parish, Assumption Parish, Baton Rouge, Livingston, Iberville, & New Orleans, LA.